Restore 5 Litres | Hi-Gloss Tyre Shine | Restores plastics | Waterproof and Weather-Resistant | Superspreader Technology for Unbeatable Economy
Restore 5 Litres | Hi-Gloss Tyre Shine | Restores plastics | Waterproof and Weather-Resistant | Superspreader Technology for Unbeatable Economy
---
Product details
See all of the 5 Litre products here
Restore is a high quality blend of plasticisers silicones and waxes combined with a pleasant peach fragrance. The plasticisers in the product help prevent cracking whilst the waxes create a long lasting lustre which keeps the vehicle looking new. Treated surfaces are dust-resistant in approximately one hour and weather-resistant after twenty four hours. Restore's ultra-low surface energy (less than 20 mN/m) makes it a superspreader, capable of spreading spontaneously on virtually any surface, ultimately to a monomolecular film. 
Outstanding results will be achieved using Restore on both interior and exterior vinyl surfaces.
When applied to tyres Restore gives a long lasting water resistant finish.
Due to a global shortage of silicone-based materials, prices have increased very sharply, which has impacted our price. To ensure fairness to all of our customers, we are restricting sales of this product to 2 x 5 litres per order.  The 15% multi-buy discount will still be honoured (Mix 'n' Match minimum 2 x 5 litres). 
Thank you for your understanding and co-operation.
Restore's superspreader technology is incredibly economical. To see how little the cost-in-use can be, click on the image below to go to the Restore Cost Calculator.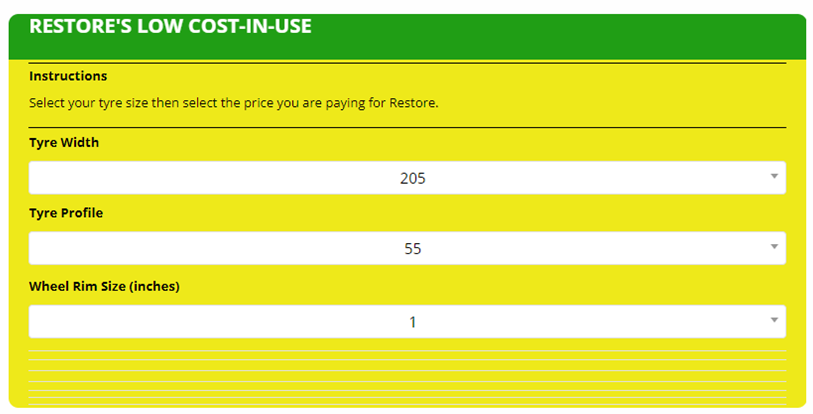 Product reviews
Be the first to review this product.